For Quidditch in the ravelry group Harry Potter Knit and Crochet House Cup, the current challenge says:
Match 1 – Accio Permission Slip! September 5 – September 18
Madame Umbridge left herself room to approve our clubs, teams and groups, but I would wager that a little flattery might go a long way. For this match each player will make something that would appeal to Dolores Umbridge to convince her to let your house play Quidditch. This is not a house pride match but rather we want you to make something to butter up the High Inquisitor. Cats, pink things, tea related items, evil quills ….whatever you can argue she would love is game.
Only a single project may be submitted for this round. Dolores is a quality not quantity kind of witch. Your completed turn in will earn your house 15 points.
Hint - There is a secret bonus point possibility this round if you MAKE are one of her favorites.
For this challenge I decided to make Dolores Umbridge a pink fat bottom bag. I'm using this
free pattern
for it, a size H hook, and Caron's Simply Soft yarn. When I was telling my husband about the challenge, he suggested that I use velvet for the lining of the bag. Brilliant idea! However the velvet that I really wanted to use was really expensive, so I settled on some fake pink velvet that was on sale. As it turns out I have some hot pink yarn that matches it perfectly, so I am using that for the trimming and the handles.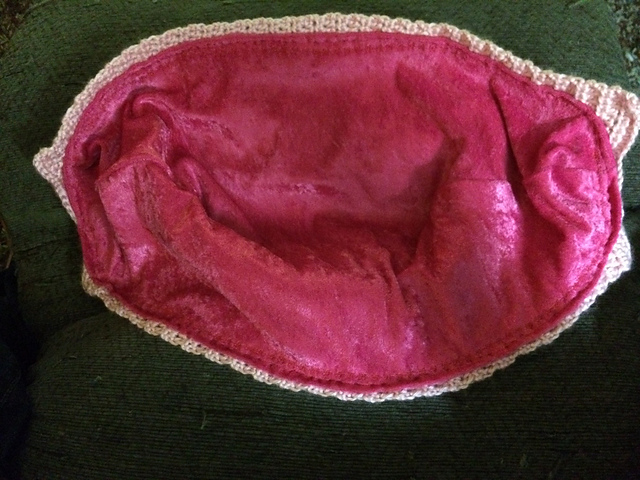 This pattern is really neat, because after you make the body of the bag (which is kind of flat) you can sew in the lining. It is a lot easier making a lining for this bag than any other lining that I have ever made. I did need to use a stretch needle on my sewing machine, because the fabric was a little stretchy. I machine sewed all of the raw edges of the fabric so that they wouldn't unravel. You can't really see it because of the color of the thread, but there are tiny red flowers in the stitches. Then I hand sewed the lining to the body of the bag. I like to hand sew the lining to the bag so that I can hide the stitches. This way you can't see the stitches from the outside of the bag. I am almost finished crocheting the trimming and handles, and then I'll crochet a bow for each side of the bag. I'm hoping that this bag will be finished tomorrow.